Filletedge command
Function Description :
This command is used to round and fillet the edges of solid objects.
Command Access :
Icon :
Menu : /
Ribbon : /
Toolbar:  /
Command : FILLETEDGE
Alias : /
Command Prompts :
Select an edge or [Chain/Loop/Radius]: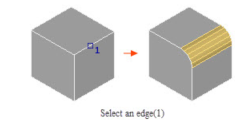 Select an edge
Specifies one or more edges on the same solid body to fillet. After pressing Enter, you can drag the fillet grip to specify a radius, or use the Radius option.
Chain
Specifies more than one edge when the edges are tangent to one another.
Loop
Specifies a loop of edges on the face of a solid. For any edge, there are two possible loops. After selecting a loop edge you are prompted to Accept the current selection or choose the Next loop.
Radius
Specifies a radius value
---
Related tutorial video:
Above video sources from TUTORIAL - GETTING STARTED WITH GSTARCAD, enrol now for free.