GstarCAD stand-alone version online activation, 2018 - 2022
License Key Activation
After you install GstarCAD 2021and start-up software, the system prompts you to choose Activate or Trial. In both cases, please select a version accordingly first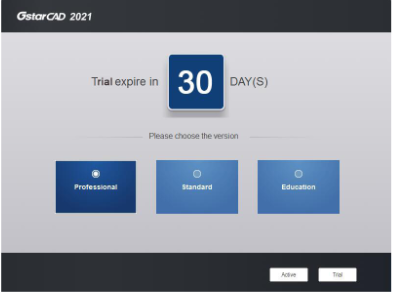 If you want to try GstarCAD 2021, just select Trial to get a 30-day trial of the software. During the trial period, the product performs as fully activated.

If you already have a valid license key, you can activate the software directly by selecting Activate to open GstarCAD License Manager. Or you can access GstarCAD License Manager from Help menu-Register
 
ALTERNATIVE STEP
 

If the GstarCAD is installed on the computer without internet access or an internal error may cause by the firewall or any blocked by security service.

 

 
Manual Activation 
 
 
 
 
 
 
Standalone License Key
You need a valid standalone license key (serial number e.g. 662E-DE07-0000-0050-8DBE-74A4-0000-0030) to activate your GstarCAD, or you can get/borrow a network license from an existing license server in GstarCAD License Manager.
There are four methods provides in the License key tab.
Online Activation: Activate license online
Manual Activation: Activate license manually
Network License: Get a license from a network license server
Borrows License: Borrow license from a network license server
Online Activation
Instruction: Make sure your computer is connected to the internet.
1.Click Online Activation(O)and select a version of GstarCAD 2021(Professional, Standard and, Education).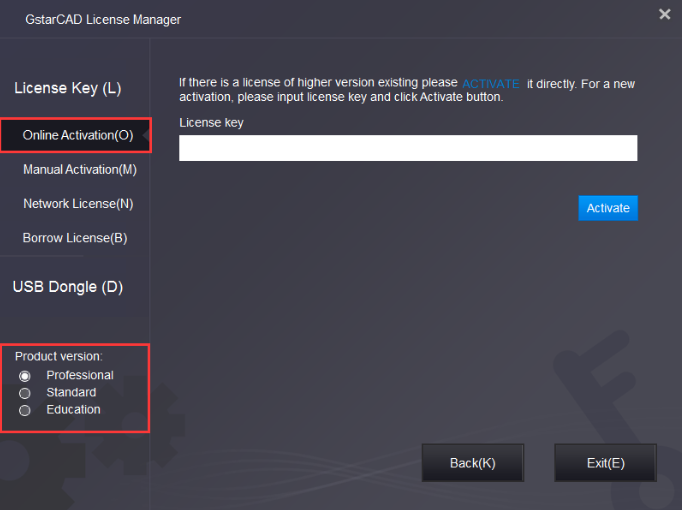 2.Input your license Key(serial number)and click the Activate button.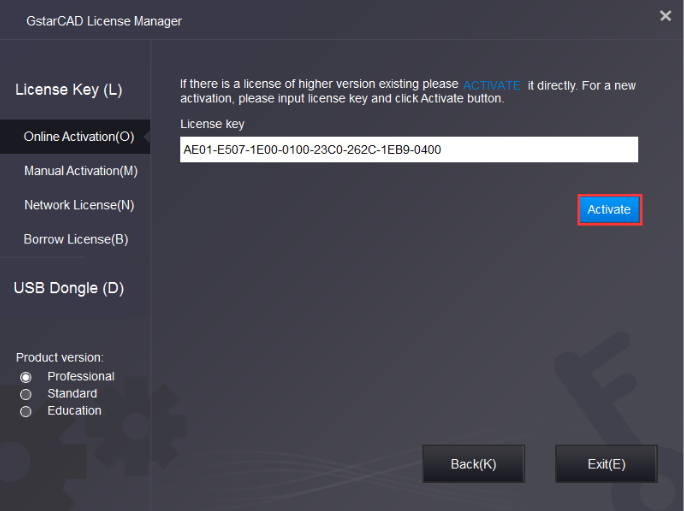 3.After a few seconds the following message appears. Click OKbutton to finish the activation. Then restart your GstarCAD 2021.