GstarCAD 2016 Upgrade - Hardware-encryption. Type 1 - Standalone
Dongle upgrade procedures
Download

GstarCAD Dongle Update tool.exe

from attachment or gstarcad download page.
Launch the Dongle update software on the computer which have the dongle.
Click ONLY GETSN ;  it will generate a .lov file, save this, and email to us.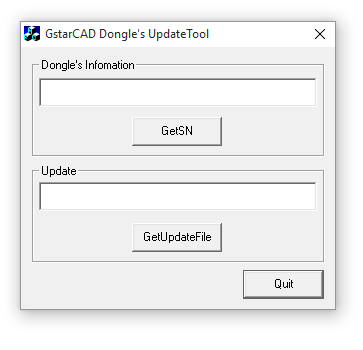 Once we have the .lov file, we will provide you with a reply within 1-3 working days with the response file (.liv). Here are the procedures on how to reprogram your dongle to be able to support GstarCAD 2016.
 
Procedures ;
Use the same dongle update software.
Plug in the correct dongle only with the same serial number > click GET  UPDATE FILE. > browse to the same serial number

.liv

file
Download and Install GstarCAD 2016:
 
1 ; Download  GstarCAD2016_xxx_x64.exe for 64 bits windows  or GstarCAD2016_xxx_x86.exe if you are using 32bits Windows. (gstarcad download page)
 
2 : Install and run GstarCAD 2016 > with your dongle plugged in > choose the version you are using >NEXT > Standalone > Hardware encryption > Next.
Click here If you need GstarCAD 2016 installation Guide.